USA stock is available, the portable massage table enjoys 3-8 days to deliver.
Lie on this portable massage table and enjoy a comfortable massage to relax the whole body, get a better sleep and keep a happy mood. The aluminum massage table is supported by high strength and good hardness aluminum alloy frame, covered with comfortable premium leather cushion. 3 section folding design for easy carrying and storage. This lightweight portable massage table can be used as home massage table, facial bed, spa table, eyelash table, tattoo table, etc. Try this folding massage bed and enjoy the professional massage at home now!
Specifications:
Material: Synthetic Leather and Aluminum
Dimensions: 73 x 24 x 32″ (L x W x H)
Weight Capacity: 226.8kg/500lbs
Item weight: 30 lbs
Face Cradle Length: 84″ / 213cm
Side Arms Width: 32″ / 81cm
Range of Height: (24-32)" / (60-81)cm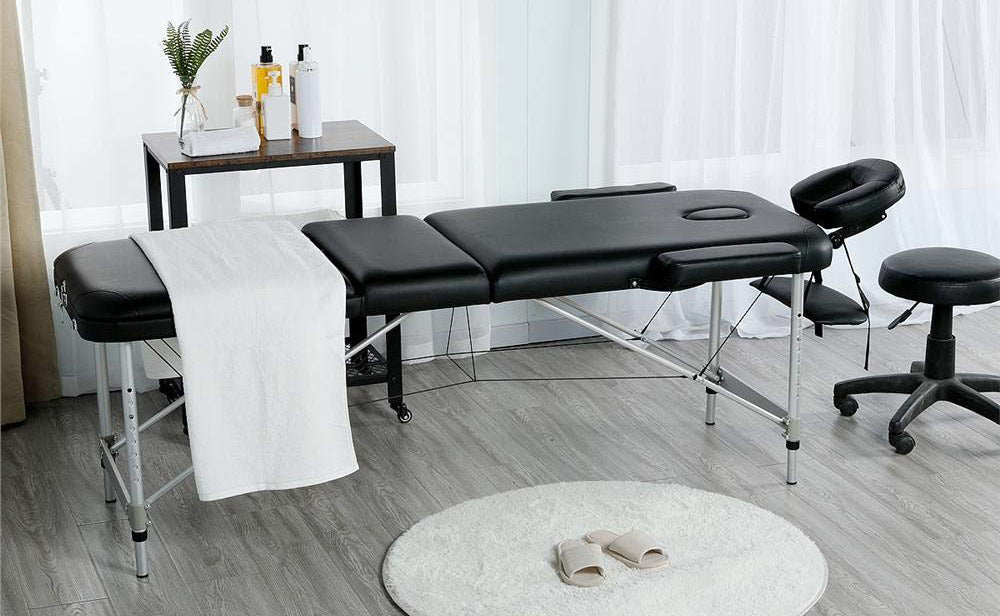 Features:
Adjustable massage table: The esthetician table has 8 adjustable heights, which you can adjust according to your needs. There are round holes on the legs of the table. Press the small round knobs on the legs to complete the height adjustment.
Removable Parts: Armrest, headrest and hand pallet can be removed freely, which is the advantage and flexibility of this portable massage. They are all connected to the main body by metal brackets. The U-shaped headrest is even locked firmly with a hook and loop.
Portable Case: Thanks to the 3-part foldable design, the massage table with storage turn into a box with handle after folded. The spa massage table is extremely convenient and saves space to use for home or going out, especially for mobile therapists.
Easy to clean: The table surface is covered with waterproof and oil-proof PVC leather. After use, you can keep it clean by simply wiping it with a wet towel.
Applicable Occasions: Massage bed is an important equipment for SPA bodybuilding salon. Such as home massage, physical therapy, tattoo, beauty salon, facial care, clinic, etc.

Premium Aluminum
This aluminum massage table legs comes with non-slip caps, it can keep quiet while moving and protect the floor.
Push Button Adjustment
Max. Load Bearing: 500lb
Foldable
It's easy for you  to set up the esthetician bed.
All accessories are in a case, you only need to open the case, pull the legs out, adjust the height.
Insert a headrest, a hand pallet and two armrests into the correct position.
Set up the Headrest
The U-shaped headrest needs to be fixed by angle lock
First unlock the angle lock
Insert the metal bar connecting the headrest into the correct position
Then press the screws on the other side of the headrest
Finally, press down the angle to complete the setting