Upgrade design in 2020: Powerful blackhead suction and reliable latest air pump technology to remover all kind of blackhead without hurting your skin. The pore vacuum cleaner has a strong suction force to eliminate blackhead, large pores and acene. It also comes with 5 rechargeable pores to meet all your requirement of facial clean. Please constant use the Pore Vacuum Cleaner for 3-6 weeks and you will own the clean and elastic skin.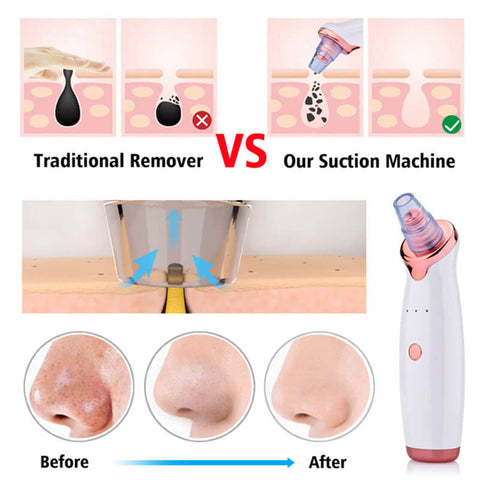 Multifunctional and professional:  There are three different levels of suction strength to ensure that pore cleaner is suitable for all skin types. Four replaceable probes are designed to treat a variety of skin conditions, take a variety of treatments to treat acne, and help users get clean and smooth skin. This blackhead vacuum cleaner can provide professional treatment for any aging or acne-prone skin.
Effective and safe: Please remove blackheads in the right way and don't hurt your skin. With the help of air pump technology, it can provide strong suction without stimulation. Before using the acne remover, use the hot compress for 3-5 minutes to open the pores, and use the acne remover to make the pimples appear on the skin surface. During the treatment, please do not stay on the vacuum cleaner for too long time. When finished, please use the frozen mask to relieve the skin.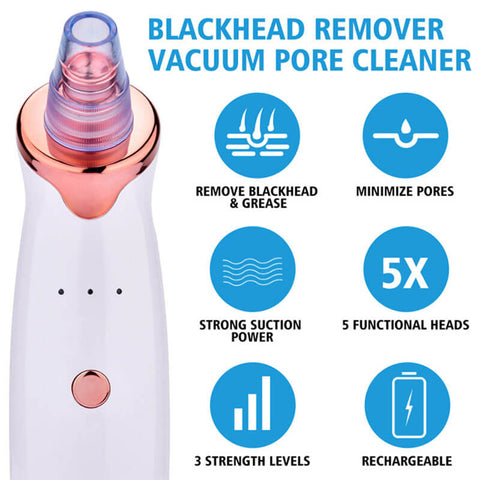 Long standby time: With lithium battery up to 850 MAH, the pore vacuum cleaner can last work at least 150 minutes, allowing you to use it for travel and business travel. The ergonomic design makes it comfortable to hold and use.